Party Trick
Chescombe Farm is home to SHB (GB) Champion Stallion, Party Trick.
This exciting young stallion offers breeders the opportunity to access world class bloodlines.
His sire, Chilli Morning, has excelled in eventing winning Badminton CCI 4*, medals at both European and World Championships along with numerous wins at CCI3*. His dam, DHI Party Piece, is an outstanding broodmare by Tolan R; her first foal DHI Zulu is currently show jumping successfully at 1.40 on the world circuit with Jenn Serek having won her age classes based at the Ludger Beerbaum stables for the early part of her career.
Party Trick's impressive movement, scope and jump earned him SHB(GB) Champion Stallion at his grading in 2016. The approval he demands from his judges had been passed on to his progeny with his foals dominating the 2017 shows winning 'Elite' at the BEF Futurity Shows and 'Best Eventer' at the British Breeders Network Great British Mare and Foal Show.
He is a handsome and intelligent looking stallion with a wonderfully patient and trainable temperament and is much admired by those who work with him.
Party Trick is extremely fertile, with a high conception rate from fresh and frozen semen alike.
Nick Gauntlett said in 2016 "I love this horse. For the past few years I have been on a worldwide search to find a stallion that is of a calibre that I consider fit to fill Chilli Mornings stable and for obvious reasons I have been incredibly fussy. It now appears we have bred one that the industry experts like as much as we do".
For information on Party Trick's bloodlines, CLICK HERE.
For Party Trick's studcard, please CLICK HERE.
Bespoke Embryo Transfer & Mare Livery Packages
In conjunction with our stud vet Helen Van Tuyll BVSC MRCVS director of VT Vets, we can offer our clients packages to suit their specific needs by handling as much or as little of the breeding process as you require.
If you wish you can send your mare to stay at livery with us so that we take care of everything for you, from getting her in foal to foaling down handling and weaning.
We also offer embryo transfer packages and have several suitable recipient broodmares that are available to lease.
And if you would like more information or either Party Trick, Bespoke Embryo Transfer or Mare Livery Packages, then please CONTACT US.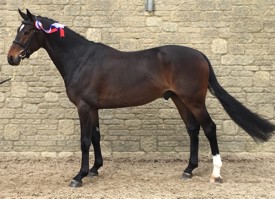 Party Trick Nomination
Terms:
UK and Europe
» AI Fresh or Frozen Semen
» NFFR, 1 October
» 2 doses per mare nomination (6 straws per dose)
Price: £900 (no VAT) + West Kingston Stud collection fee + carriage where applicable
Australia, New Zealand & USA
» AI Frozen Semen
Please contact us do discuss
CLICK HERE for Nomination Form